Small Time Skates Awarded "At Your Side" Small Business Grant
---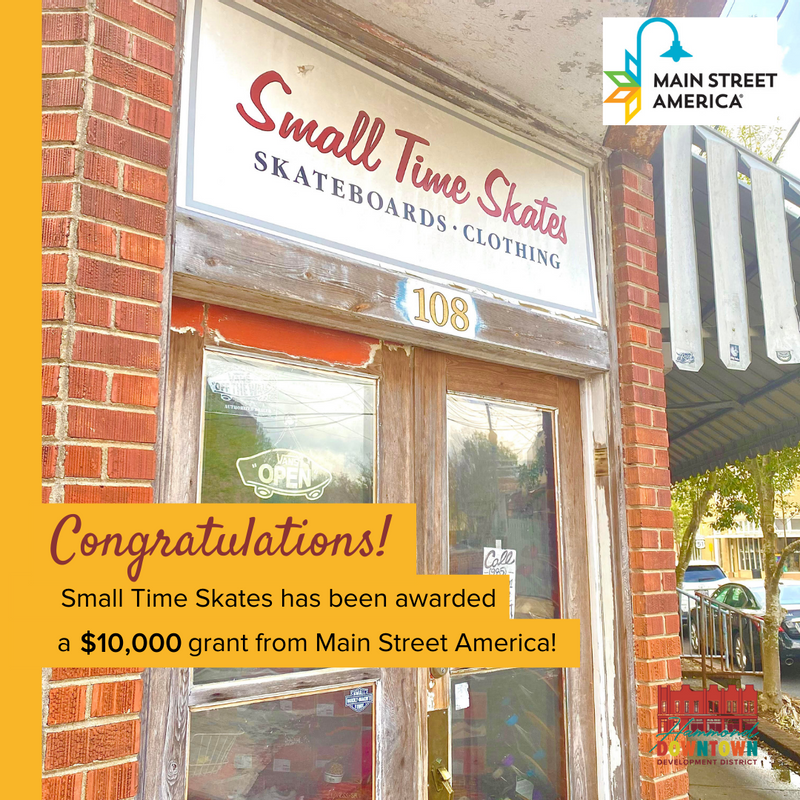 Main Street America and Brother International announced the recipients of the At Your Side Small Business Grant Program. Grants of $5,000 - $10,000 have been awarded to eight brick-and-mortar small businesses in designated Main Street districts across the country. Funds will help these businesses adapt to COVID-19 and prepare for the next phases of reopening across the country, while also helping to revitalize and strengthen older and historic commercial corridors.

Downtown Hammond's very own Small Time Skates has been awarded $10,000! Downtown Hammond is also one of only FIVE cities in the U.S. to have more than one business be awarded funding from Main Street since the beginning of the COVID-19 pandemic.
"We are so happy to have partnered with Main Street America to give back to the small business community in a meaningful way," said Phil Lubell, vice president of marketing at Brother International Corporation. "Small businesses are a big focus for us, and we're dedicated to providing the tools and resources they need to be successful. We're looking forward to watching these businesses thrive and hope to continue lending our support to this community."

Of the eight grants awarded, six will benefit diverse-owned businesses, defined as BIPOC, woman, veteran, disabled, and/or LGBTQ-owned. Grants were awarded to businesses from a variety of industry types – from restaurants and a yoga studio to a rug store and a skate shop. All grantee businesses are located within designated Main Street America or UrbanMain districts.

Grant proposals were judged based on:

Feasibility
The extent to which the grant will help address an acute business need or help a business owner implement innovative solutions to address COVID-19-related challenges.
Opportunity for other businesses to learn from the work.
How the grant would help improve the viability of business; business' contribution to the local community.
Strength of letters of recommendation and supporting documents.


Here is a full list of the grantees:

Karson Butler Events at the Ah Louis Store: San Luis Obispo, CA
LiveWell Camas: Camas, WA
Bunyaad Marketplace: Lititz, PA
oLive Juicery: Kosciusko, MS
Pittsburg Hot Links: Pittsburg, TX
PJ's Barbers and Stylists: Congress Heights, Washington DC
Revel: Silver City, NM
Small Time Skates: Hammond, LA
Congrats to our beloved Small Time Skates!