Downtown Hammond Urban Park Project
in
Projects
---
Overview
The public green space located at #2 W. Thomas St. has been a desired project of the Downtown Development District since 1998. This space has been labeled as Downtown's city center throughout multiple DDD Master Plan updates. John Desmond, renown mid-century modern architect who designed the building that is now the DDD office, originally envisioned this space as a public park. With this in mind, the DDD plans to bring new life to this space in 2021 -- making an effort to highlight its history while renovating the hardscape. 
The green space (or urban park) was donated by the Cate Estate to the City of Hammond. It is home to historic live oak trees, the Stewart monument, the DDD office, and the Hammond Farmers Market.
In 2018, the Hammond Downtown Development District took out a bond for $300,000 to construct a pavilion on-site and renovate the area. The construction of a pavilion within the district is also a long-standing goal for the DDD, dating back to the 1998 Master Plan. After much deliberation, however, it was decided that a permanent structure could not be built on this property (per the Cate Estate's donation terms.)
The DDD went back to the drawing board to plan how bond funds could best be spent. A committee was formed to identify locations for constructing a pavilion. But it was ultimately decided by the committee that Hammond's "city center" needed be renovated first.
The DDD pavilion committee and design committee made recommendations to the Board of Directors to spend the acquired bond funds on improving this public green space. Both committees believe this space should be renovated, preserved, and enjoyed by our whole community -- as it is the true center of Downtown Hammond. The Board of Directors approved as well.
Let's Begin: Public Input Opportunities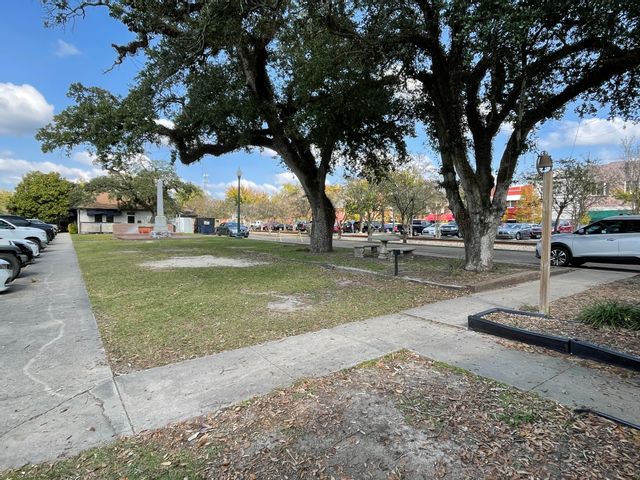 To begin this project, the DDD gathered public input on the possibilities for this space. A total of five in-person public input opportunities were scheduled over a period of two weeks. A free online survey was also published during that time. The results of those public comment opportunities, as well as procedures, are listed in the document below.
Minutes & Agendas
This project has gone through the Pavilion Committee (short-term committee), Design Committee, and Board of Directors. All minutes and motions can be found on the
Minutes & Agendas
page of our website. 
Supporting Documents
Questions You May Have
What happened to the idea of constructing a pavilion at this location?
Several months ago, the DDD formed a Pavilion Committee, dedicated solely to this idea. After careful consideration and discussion, the committee and newly elected board have decided to go in a different direction with this location. Many legal and zoning obstacles presented themselves, and the board felt it was best to go back to the drawing board and reevaluate all possibilities for this downtown area.
Will the DDD still build a pavilion?
We sure hope so! That's still a goal of ours -- but it won't be at this location. The DDD is currently scouting out locations in hopes of bringing a pavilion to Downtown. However, the Urban Park is still our primary focus.
Who decided on this project?
Updating this area has been part of all the DDD recent Master Plans, including the latest 2019 edition. Our board and committee members have discussed this project about for quite some time. As mentioned before, the board appointed a "Pavilion Location Committee" to scout out the best options for a new community space in our district. After a few meetings, the committee voted and recommended to the Board of Directors that, first and foremost, the bond-issued money should be spent renovating this location. This was also recommended by our Design Committee.
Who is paying for this?
In 2018, the DDD took out a bond for $300,000 to renovate this location. It's first goal was to construct a pavilion. After much research and discussion, it's been decided that a pavilion is not the best use of this particular property. However - the DDD and its constituents believe that this space should be renovated, preserved, and used by our whole community; as it is the true center of Downtown Hammond.
Why now?
75% of the bond funding must be spent by October 2021.
What will it look like?
That's up to our community! We have a general idea that landscaping and sidewalks will be renovated -- but the rest is up to the public. We urge our community to attend our public input sessions and make your voice heard.
How will it affect parking?
At this stage, it will not affect parking. We do have an initial goal to change the diagonal parking on SW Railroad Ave, ultimately making this area safer for pedestrians. If parking is affected when construction begins, notices will be sent out to citizens.
What about the live oak trees and the monument on this property?
There are NO plans to remove or alter our beloved live oaks. The trees, as well as the monument, will stay onsite and be carefully preserved.
How can I get involved?
Come to the public meetings and give your input. You can also stay up-to-date on this website. All new information, minutes, sketches, ideas, and more will be added on a monthly basis.