2nd Annual Rotary Chili Cook-Off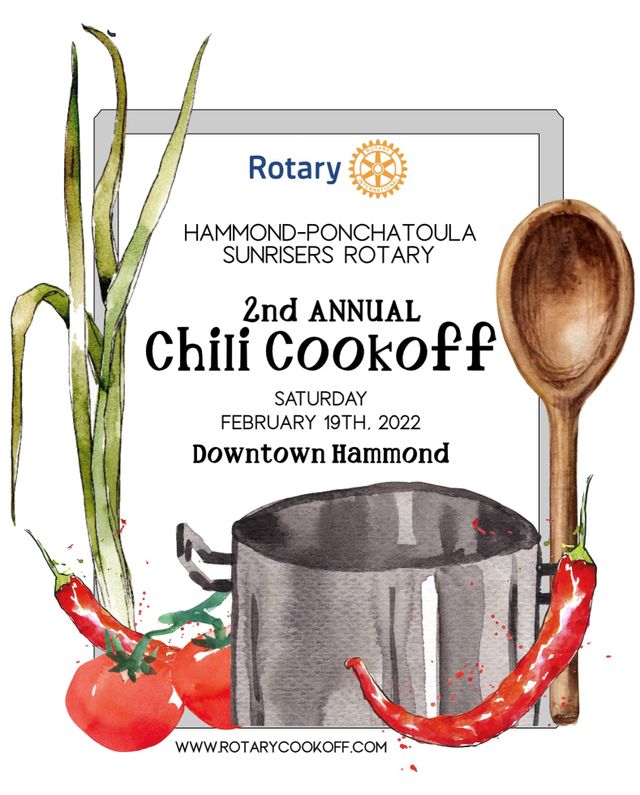 Description
The Hammond-Ponchatoula Sunrisers Rotary Club announces that they will be bringing back the popular Chili Cook-off to Downtown Hammond on Saturday February 19, 2022 following the cancelation of the event in December 2020 due to COVID-19.
The Chili Cook-Off will begin the early morning of February 19th with team registration and set up. After a team meeting all teams will begin the process of assembling their award-winning chili recipes. Contest judging starts at noon, while the public will have a chance to Crown a People's Choice Award Winner by purchasing a wristband for $10 that will allow each participant to sample all team chilis and to vote for their top choices. The club goal is to have up to 40 teams competing.
Awards will be given to the Top 3 Judged chili contestants with $500 for 1st place, $300 for 2nd place and $200 for third place. The top 3 People's Choice Award winners will win certificates and unique awards. The Awards ceremony will commence at 2pm.
"This year we have added a Restaurant Division. This Division will allow local restaurants to feature their own chili in their restaurants the week before the Chili Cook-Off. All proceeds from the sales of chili featured will go directly to Our Daily Bread", said Bryan Ehricht, Rotary President. "What a fantastic way for the community to support local eateries during these trying times, support our Chili Cook-Off and benefit a great local Charity that feeds our community!"
The Sunrise Rotary Club will be serving their award-winning chili, chili dogs, chili frito pie and cotton candy! Beer, soft drinks and water will also be available for purchase during the event. A local DJ will provide music.
Proceeds of this event will benefit the many charities and organizations that the Hammond-Ponchatoula Rotary Club underwrites each year. The club meets every Tuesday morning at 7:30am at Tope'La catering on East Thomas Street in Hammond. "We would like to thank our current teams and sponsors for continuing their support. Our Rotary club is growing and we ask those individuals or companies interested in joining our group to please reach out to us for more information", said Deek DeBlieux, Rotary member.
For more information and to register your team visit www.rotarycookoff.com or contact Deek DeBlieux at 985-507-4992. Sponsorships are still available.
Hammond Downtown Development District
7:00 AM CST
to 12:00 PM CST
Private:No
RSVP Required:No