Downtown Hammond Pavilion Project
---
Pavilion Overview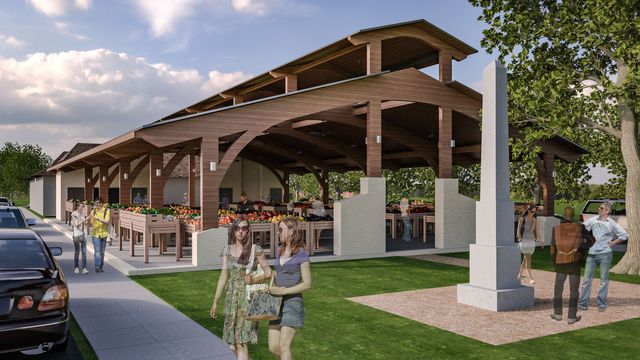 The idea of a pavilion originated in 2002 with the DDD Master Plan update. This plan was created with input from 80 citizens, business persons, city officials and the Hammond DDD Board and staff; all forming a vision of a functional, public, multi-use space. 
The DDD has faced many obstacles on the way to making this vision a reality; mainly on the issue of exactly where this pavilion should be built. So this year, we've decided to take action and find a home for this vision. We've joined forces with passionate community members to finally form a 
DDD Pavilion Committee.
The committee's current focus is to pick a realistic location. Updates on the committee's progress will be posted here. 
***The image to the right is ONLY an example.
Resolution at September 16th Board of Directors Meeting
Board member Frank Di Vittorio made the following a motion, seconded by Elsbet Smith Hollywood: "to create a Pavilion Committee to first scout out all possible construction locations. The committee members shall include Tom Anderson, Stan Dameron, Frank DiVittori, Roy Dufreche, Elsbet Hollywood, Paul Murphy, Bruce O'Krepki, Tom Pistorius, Ralph Ross, and Jeffrey Smith. They shall hold the first meeting within the next two weeks and report back to the Board of Directors at their October 21st meeting."
Full meeting minutes can be found here.
Pavilion Committee Working Session: 9/22/20
This meeting served as a working session for the newly formed Pavilion Committee, chaired by Elsbet Smith Hollywood. Elsbet Smith Hollywood presented the immediate goals of the committee: (1) to use the funds in holding for the express purpose of the construction of a pavilion (2) to decide on a location within 90 days of the September 22nd meeting.
Ralph Ross presented a possible list of criteria to be applied to each potential site. Each site must be (1) within the DDD boundaries (2) at least 10,000 usable square feet (3) within two blocks of Highway 190 OR railroad tracks (4) within a lease of X years.
Locations Presented
| | | | |
| --- | --- | --- | --- |
| Site 1 | Original Location - Hanson Crossing | Side of Cate Street Seafood Station | No Assessment # |
| Site 2 | DDD Plaza | Between DDD Office & La Carreta | #4685008 |
| Site 3 | S. Cypress Street/E. Hanson Ave – Parcel A | Old Crossfit Building | #1547402 |
| Site 4 | S. Cypress Street/E. Hanson Ave – Parcel B | Behind Kirin Japanese Cuisine | #1475118 |
| Site 5 | Tire Shop | 310 SW. RAILROAD AVE | #1407805 |
| Site 6 | Neill Corp. on Pine & Thomas | 400 W. THOMAS ST  | #1230107 |
| Site 7 | Sam Tallo Gas Station | 408 SW. RAILROAD AVE | #1277103 |
| Site 8 | Cate Square Park | 200 W. CHARLES ST | #3528804 |
| Site 9 | Feed & Seedeed & Seed | 103 E. ROBERT ST | #1222007 |
| Site 10 | "The Triangle" – SW Railroad Ave. | 401 SW. RAILROAD AVE | #3480801 |
| Site 11 | Behind Fire Station 2 | 605 E. MORRIS AVE | #1324705 |
To view the full minutes, click here.
Pavilion Committee Meeting: 10/06/20
This was the second meeting for the committee.  To view the full minutes, click here.
Motion carried: 
a.      Ralph Ross made the motion to recommend to the Board of Directors that the bond money be spent first and foremost on the urban plaza behind the DDD. This will serve as a short-term (or long-term) solution to better house the farmers market and a more permanent structure should still be considered. Jeffrey Smith seconded.
Tom Anderson                              Yes 
Stan Dameron                              Absent
Frank DiVittorio                            No
Roy Dufreche                               Absent
Brandon Faust                             Yes
Sandy Fleenor                              Yes
Elsbet Smith Hollywood               Yes
Paul Murphy                                 Absent
Bruce O'Krepki                            Yes
Kristin Pielter                                Absent
Tom Pistorius                               Yes
Ralph Ross                                   Yes
Jeffrey Smith                                 Yes
Tracy Wells                                   Yes
Locations Still Being Considered Presented
| | | | |
| --- | --- | --- | --- |
| Site 1  | Original Location - Hanson Crossing | Side of Cate Street Seafood Station | No Assessment # |
| Site 2  | DDD Plaza | Between DDD Office & La Carreta | #4685008 |
| Site 3  | Sam Tallo Gas Station | 408 SW. RAILROAD AVE  | #1277103 |
| Site 4 | Feed & Seed  | 103 E. ROBERT ST  | #1222007  |